What is the best Antique Wax?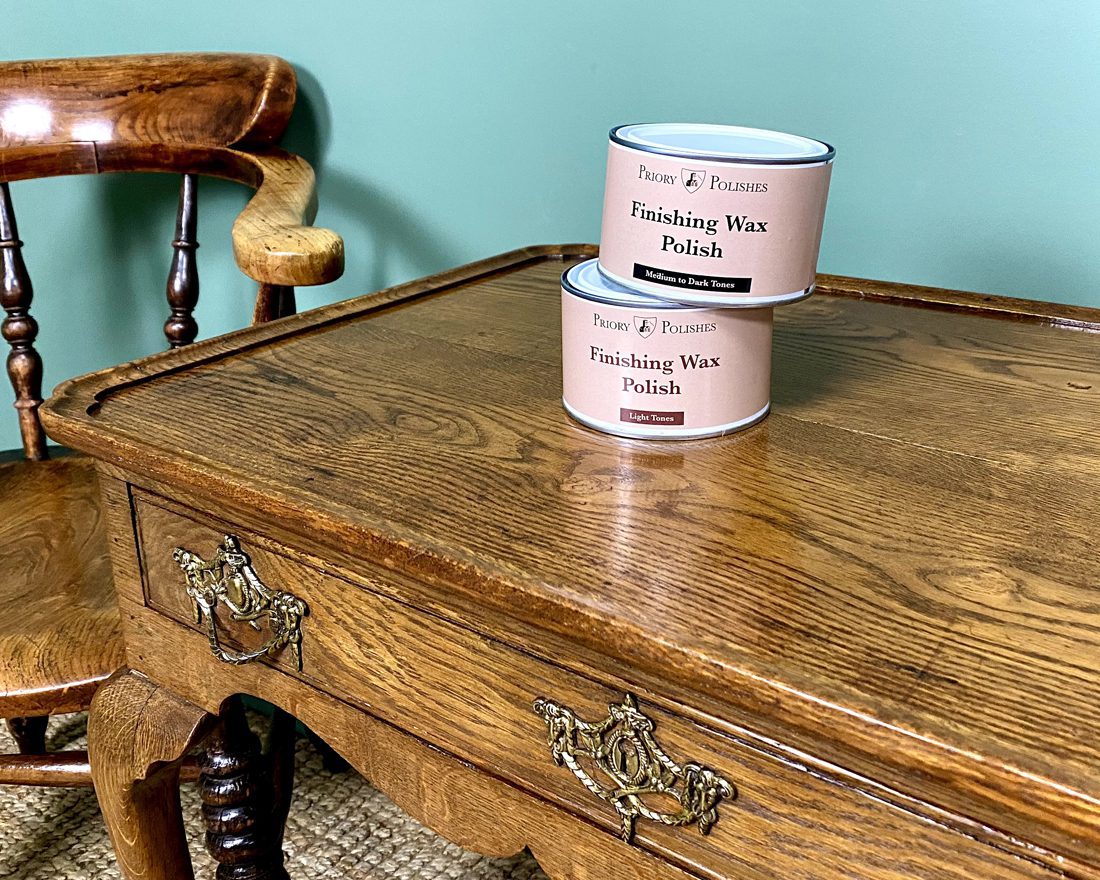 Antique wax has been around for centuries, and there are many varieties that are still in use today. Some people prefer natural waxes, while others prefer synthetic ones. The type of wax used on an object will affect its appearance and durability. As an antique restorer for over 20 years, I have tried and tested them all and below is, in my opinion the best antique wax available in the marketplace today.
Why use Antique wax?
Wax is a traditional polish used to preserve and protect the natural beauty of the wood by applying a protective layer. This wax layer will nourish the timber, help to colour marks / scuffs and also offer protection against the elements, like the sun or temperature changes. Using a traditional beeswax finish will also help maintain the authenticity of an antique or vintage piece as you are not applying a modern finish and destroying the original charm and character of a genuine antique.
Wax for Antique Furniture
My main job as an antique restorer is working on antique furniture that we sell on the website antiques world. All these pieces have been cleaned and restored to a high level but keeping the original patina. We have tried and tested many wax polishes to see what offers the best overall finish and protection. We ended up finding that Priory polishes offered the best overall products for restoration, in particular their wax finishes. This is why when the previous owner announced he was retiring, we decided to take over this unique company and keep offering quality restoration materials that are made using traditional materials including beeswax.
The overall best solution to clean and restore antiques, especially antique furniture was to use the combination of polish reviver first, to revive the patina and remove any dirt. We then finish using finishing beeswax and the results are outstanding. There are two options, a clear light shade or a medium to dark coloured wax polish on offer.
see the following video on how to best use these two products to wax antiques and you will be amazed on how well this combination works together.
Antique Wax Polishes
We offer many brands of wax furniture polish including the one mentioned above. They all have different properties so are ideal to create a nice finish on different types of timber. They can make a dull, tired finish shine again, but I would always recommend to use the polish reviver first to get the best results.
Antiquax offer a good selection of wax polish from their renowned antiquax original wax polish to the wonderfully scented lavender wax. Over the years, these products have been used in large stately homes and museums across the world and are made using old age recipes.
Renaissance have produced a Micro Crystalline Wax, made from a unique blend of waxes so it is not only used on wood but can also be used on Metal, Stone and Leather. Because of the wide variety of materials this can be used on, it is very popular throughout the antique restoration trade.
Fiddes offer a superb selection of waxes in a variety of colours. Their mellow rage is used on finished wood and their supreme range is used on unfinished bare or stripped wood. The most popular colours are Stripped pine and Rugger Brown in the supreme range. This is made in Wales in the UK, so a good British brand and is a quality beeswax polish. We offer the smaller 500ml tins up to a 5 Litre for the larger projects.
Liberon offers a good selection of restoration products including waxes and is a very popular brand, especially in the antiques trade. Their products are made in France but of high quality and are always in demand. They offer several different polishes but the most popular are in their Black Bison range in either a Paste or liquid form. I personally prefer the paste as you can get a better build of finish in less time, but I recommend to only apply thin coats at a time and build up in layers.
Briwax offers several good antique wax polishes from their original coloured selection to an aerosol spay form for speedy cleaning and they are currently the only company to offer a vegan friendly wax. They are all mainly more well suited to dryer or bare woods but can also be used on previously finished surfaces.
Stones waxes have been used since the 18th century in England and this traditional formula is still in use today. This wax has no silicone or artificial additives and is made with beeswax, white spirit, pure soap and essential oils. There are two options, either light or dark and it also comes in an optional aerosol spray form.
Finally, we have one more option to share with you called Lord Sheraton. Their caretaker polish range, comes in either an aerosol or a balsam finish. It is probably the most reasonably priced antique wax but I personally would consider one of the above options for antiques. Although it is a good product, especially if you want speed to apply a finish, it does not have quite the same qualities as some of the others.