Description
Priory Polishes, Polish Reviver cleans and revives the original patina to create a beautiful lustre and enhance the original finish. It removes years of dirt, grime, some white rings, watermarks, Haze and Bloom. It is ideal for use in antique furniture restoration. It is Simple and easy to use.
As featured in the Antiques Trade Gazette.
Below is an example of an antique Windsor chair that we cleaned and revived the original finish using polish reviver along with Priory dark tones wax finish.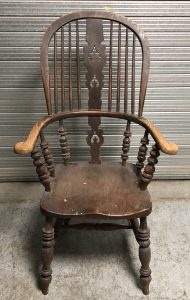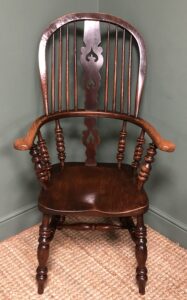 How to use Priory Polishes Polish Reviver
For a full and comprehensive guide on How to Clean and Revive Wood Furniture, please see our helpful article here.
1. SHAKE WELL BEFORE USE. Wax fill any small scratches, holes etc. before applying.
2. Apply the polish reviver sparingly with a fine Cotton buffing cloth or very fine (0000) Wire wool and always work in the direction of the wood grain.
3. Once applied, use firm pressure with a clean cloth to lift out the dirt and remove the excess. Old stubborn marks may require several applications.
4. For best results, finish with our Priory Polishes Finishing Bees Wax Polish as this will enhance the finish and protect the surface of the wood.
It is always recommended to test a small area first.
Watch our video tutorial on how we revived this beautiful Desk.