Description
Priory Polishes Finishing Bees Wax, comes in two easy options, Light Tones or Medium to Dark Tones. Our quality blended Beeswax is ideal for all shades of wood as it feeds, nourishes and protects your finish and will enhance the sheen. This has been specially developed from a traditional recipe, used by clock and antique furniture restorers but is also suitable for modern finishes.  It is most suitable for previously finished or sealed interior woods.
How to apply Priory Polishes Finishing Bees Wax
For best results, we recommend cleaning the surface first using Priory Polish Reviver on furniture or Priory Polishes Clock Case Restorer on clocks using very fine wire wool. This will remove the dirt, grease ready for treatment of the wax finish. This will also give you the best sheen and add to the depth of the colour and finish.
Once you have revived your wood finish, take a clean cotton cloth (Priory Polishes Fine Cotton Buffing Cloths are ideal) or a brush in hard to reach areas, and apply small amounts of wax evenly in the direction of the wood grain where possible.
Lightly remove any excess and then leave to dry for around 10 minutes.
Once dry, buff off until the desired sheen has been reached with a soft dry cloth.
Several applications can be applied to deepen the colour and enhance the required finish.
---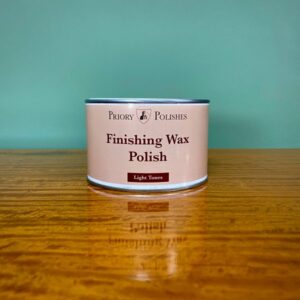 Our light tones Priory Polishes finishing Bees Wax, is ideal for all lighter shades of wood from Pine, Yew, Ash, Light Oak, Golden Walnut, Elm and satinwood. It leaves a loving sheen and adds a depth of protection to your wood.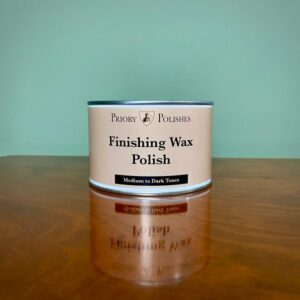 Our Medium to Dark Priory Polishes finishing Bees Wax is ideal for all other shades of wood from Mahogany, Walnut, Medium to Dark Oak and Rosewood. Its unique shade will not only add a beautiful colour but it can help with the covering of small marks and scratches. It will protect your finish and add a lovely shine.
For best results on how to apply and Wax Wooden Furniture, please see our informative article here. it will give you hints and tips on how correctly wax like a professional and get amazing results.
---
Please Note-
Always test in a small inconspicuous area first to ensure you are happy with the results.
Always wear protective gloves when using this product.