Description
Liberon Ring Remover uses a unique formula that will remove most white heat marks, cup ring marks and white water marks from highly polished, hard surfaces on wood. This includes ring marks on varnished, French polished, lacquer and modern hard finishes. It is suitable for use on most polished woods and will also revive and shine the finish.
For a full guide on How to Remove Cup Ring Marks from Furniture please see our guide here.
How to use Liberon Ring Remover
1. Shake the container well before use. Apply Liberon Ring Remover using a clean, lint-free cotton cloth and rub vigorously in a circular motion over the mark until it is removed. Then rub over the surface in strait motions in the direction of the grain. You may need to then use the ring remover over the entire section to get an even shine. Buff with a clean, dry cotton cloth then wax or polish as normal.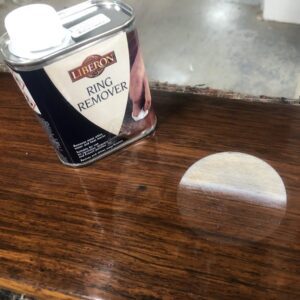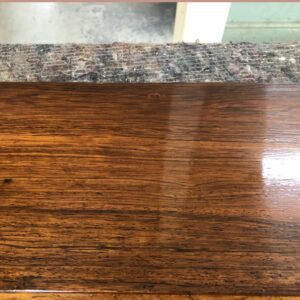 2. The Ring Remover may produce a shiny surface when used on matt or satin finishes. This is because the properties can also revive the finish. If this occurs, gently rub back the surface with Ultra Fine (0000) Steel Wool to dull off and then re-wax with a wax polish.
3. The Ring remover is only suitable on highly polished surfaces. White marks made by water or heat on waxed surfaces may be removed using our polish reviver and wax.
4. Dark marks made by water or heat indicate damage to the wood. The finish may need to be completely removed so the bare wood (see our guide on stripping wood here) It can then be treated with Wood Bleacher.
---
Important – Always test the product on a spare surface or inconspicuous area for colour, compatibility and end results.
---
Heath and Safety
Harmful. Contains aliphatic solvents. Flammable. Harmful: May cause lung damage if swallowed.
Repeated exposure may cause skin dryness or cracking. Keep out of the reach of children. Avoid contact
with skin or eyes. Do not empty into drains. Use only in well-ventilated areas. If swallowed, do not induce
vomiting: seek medical advice immediately and show this container or label.