Description
Liberon Liming Wax is a white wax used to create a limed effect on oak and other interior hardwoods. Liming looks most effective in lighter colour woods and open grained timber.
In order to lime a piece of furniture the grain pores must be open so the liming wax can be rubbed into them. To do this we highly recommend to use our Bronze Liming Brush.
See our helpful step by step guide on how to Lime wood here.
How to use Liberon Liming Wax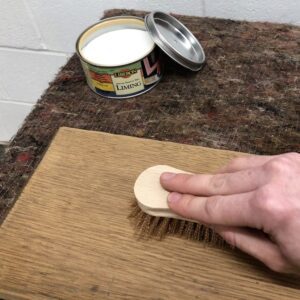 Ensure the surface is clean, dry and free from any previous finishes. It always works best on bare wood. You may need to wire wool over the surface and sand off any excess stains. Open the grain with a Liberon Bronze Liming Brush, always work in the direction of the grain and use a fair amount of pressure. The more open the grain, the better the results you will get.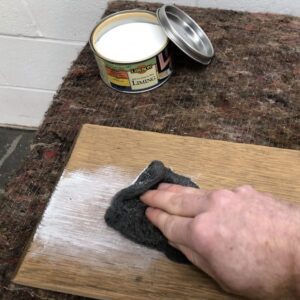 2. Once the grain has been opened using the wire brush, Work the Liberon liming wax into the grain of the wood with fine Steel Wool (0000) or a buffing cloth. You can add this in circular motions to work it into the grain but always finish in the direction of the grain. Wipe off the excess with a clean cloth, you first buff against the grain and then finish in the direction of the grain. Allow to dry for 3 – 5 minutes.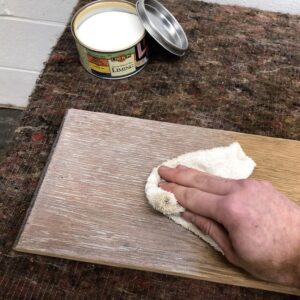 3. Remove the excess white haze using a cloth and then finish with a clear wax for a nice smooth finish. If a water-resistant finish is required, use Liberon Finishing Oil. The more coats of oil that are applied the greater the water resistance and the higher the shine.
Special Offer – Please see our full Liming Kit for Liming Furniture & Wood. This has everything you need and offers good savings rather than buying items individually. This includes Liberon Bronze Liming Brush, Liberon Liming Wax – 250 ml and Liberon Clear Wax Polish Black Bison Paste – 500 ml
Important: Always test a small area before use, to ensure you are happy with the results.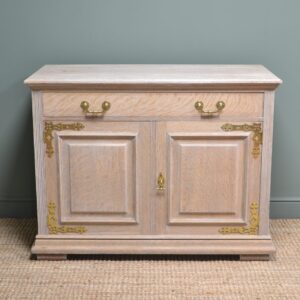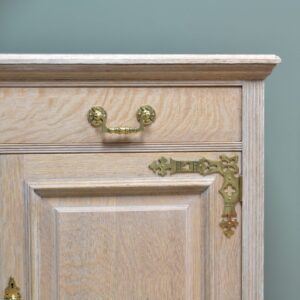 ---
---
Frequently asked Questions
How do you prepare wood for liming?
To prepare the wood for a whitewash Liming effect, you need to first make sure the surface is clean and has no previous finish by using wood stripper and steel wire wool to remove this (Liming works best on bare wood). Once prepped, open the grain with the bronze brush and you're ready to apply the liming wax. If this is a new piece of wood, simply sand the area first and then use the liming brush.
Is liming wax the same as white wax?
Liming wax is also known as white wax as it gives a 'whitewash' effect due to the wax soaking into the grain of the wood. This technique was used on oak beams in old houses and became a very popular method on furniture in the late 19th century.
What is liming wax used for?
Liming Wax is specially formulated to whitewash open grain for a lighter, more vibrant decorative finish, whilst also protecting & nourishing. Liming Paste or wax can be used on the following:
Open grain woods such as Oak
interior furniture
Antique Furniture
floors
Skirting boards
Architraves
Kitchen cabinets
Doors
Wood Beams
What is liming paste?
Liming Paste is the same product, specially designed to whiten the base colour of the grain on bare wood. Liming Paste creates a traditional 'Limed' finish and is ideal for woods that have a deep, distinctive grain such as Oak, teak or Pine.
How do you seal Liming wax?
To Seal the Liming wax you can use two options. For a more traditional mellow finish use Liberon Black Bison Clear wax, this will give a nice smooth finish. If you are looking for a water resistant finish then we would recommend to use Liberon Finishing Oil, this will take longer to dry but will be a more durable in areas where it may get wet. This is still only recommended for interior use.
What is limed oak?
Limed oak is a name used for the Oak timber that has been whitewashed. This is usually seen on floors or furniture where the grain is opened using a liming brush and filled with Liming wax or paste which lightens the grain. This is often seen on traditional period oak furniture along with other hard woods as long as they have an open grain.
---
Heath and Safety
Irritant. Contains Turpentine. Flammable. May cause sensitisation by skin contact. Harmful to aquatic
organisms, may cause long-term adverse effects in the aquatic environment. Repeated exposure may
cause skin dryness or cracking. Keep out of the reach of children. Avoid contact with skin. Do not empty
into drains. Wear suitable gloves. Use only in well-ventilated areas. If swallowed, do not induce vomiting:
seek medical advice immediately and show this container of label.