Description
Liberon Liming Kit is perfect for a beautiful decorative limed finish on woods.
This kit includes:
Liberon Bronze Liming Brush – Made from long lasting bronze bristles, which are ideal for opening the grain of hardwood before liming and shaped for a comfortable hold. Suitable for cleaning heavy carvings, mouldings and stone.
Liberon Liming Wax 250 ml – A white, high-quality wax used to create a limed effect on oak and other interior hardwoods. Liming looks most effective in lighter shades of wood and open grained timber.
Liberon Clear Wax Polish Black Bison Paste 500 ml – A soft wax used for nourishing, feeding and protecting all types of wood, it also helps in preventing  wood drying out. Liberon Wax Polish Black Bison Paste is made from a blend of waxes, premium Carnauba Wax and provides good resistance to finger and water marks making this the perfect finishing touch.
How to use Liberon Liming Kit
See our helpful step by step guide on how to Lime wood here.
1. Ensure the surface is dry, clean and free from any previous finishes as this works best on bare wood. If existing finish is needed to be removed, use a wood stripper and course wire wool.
2. Begin to open the grain with a Liberon Bronze Liming Brush (always working in the direction of the grain) and use a fair amount of pressure.  The more open the grain, the better the results you will get. You may need to wire wool over the surface and sand off any excess stains.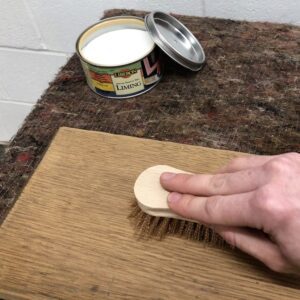 2. Once the grain has been opened using the wire brush, Work the Liberon liming wax into the grain of the wood with fine Steel Wire Wool (0000) or a buffing cloth. You can add this in a circular motion to work it into the grain but always finish in the direction of the grain.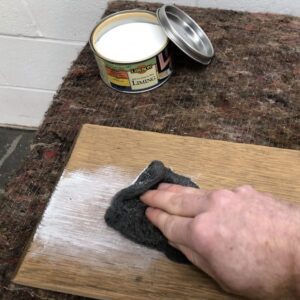 3. Wipe off the excess liming wax with a clean cloth, you first buff against the grain and then finish in the direction of the grain. Allow to dry for 3 – 5 minutes.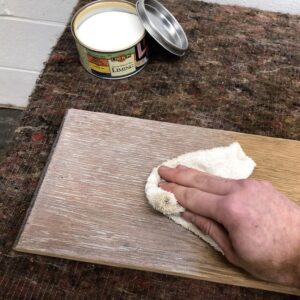 Remove the excess white haze using a cloth and then finish with a The Liberon Clear wax polish for a nice smooth, even finish.
Important: Always test a small area before use, to ensure you are happy with the results.
---