Description
Fiddes Mellow Wax Furniture Polish range is formulated from a traditional recipe, developed from over ninety years experience in the manufacture of fine wood finishes.  It is used on fine furniture, antique furniture, doors, floors, cabinet work and panelling.
A blended beeswax polish of the highest quality, Fiddes mellow wax polish has been successfully used for finishing sealed or previously polished wood for nearly a generation and is suitable for use on all woods.
How to use Fiddes Mellow Wax
For best results, we recommend cleaning the surface using Priory Polish Reviver before use as this will give you the best results, as it will clean and add depth to the colour of your wood.
Take a clean cotton cloth (Priory Polishes Fine Cotton Wax Buffing Cloth is ideal) or brush and apply in the direction of the wood grain where possible. To obtain a uniform colour, always wipe evenly, blending the Mellow Wax over the whole surface area by exerting a small degree of pressure when applying by hand. Take care to lightly remove any excess Mellow Wax immediately with a separate, clean absorbent cloth. Again following the direction of the grain pattern.
Leave to dry for around 10 minutes, and buff to finish with a soft cloth.
The application of additional coats will deepen the existing colour / shade and significantly enhance the resulting sheen level.
---
Fiddes Mellow Wax Polish is available in Five distinctive wood shades ideal for a large variety of timbers –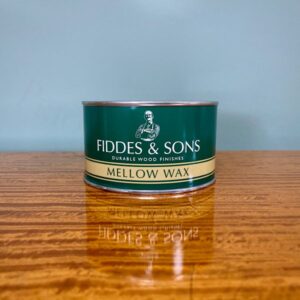 Clear Fiddes Mellow Wax – this is ideal for all woods but works particularly well on on lighter shades of wood like Pine, Satinwood, Light Oak, Golden Walnut, Beech, Ash and Yew.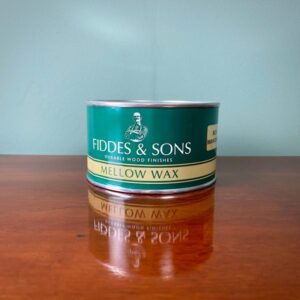 Rich Mahogany Fiddes Mellow Wax – This is ideal on woods that need a warmth and red tint adding into the shade. It works really well on red Mahogany, adds a lovely sheen to dulled woods and bleached areas.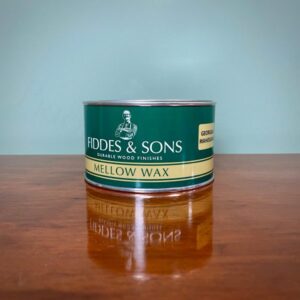 Georgian Mahogany Fiddes Mellow Wax – This is one of the most popular shades and it works on all types of Mahogany and Walnut. It is a good all round colour and works particularly well on antique furniture from the Georgian and Victorian periods.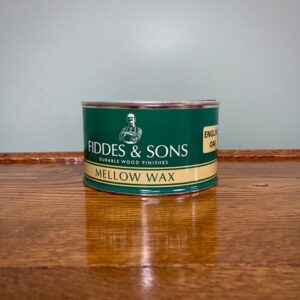 English Oak Fiddes Mellow Wax – Ideal on all shades of Oak, especially early Oak like coffers, chest of drawers and mule chests. It is widely used on Oak panelling around period homes and Oak flooring.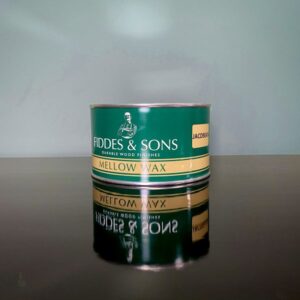 Jacobean Fiddes Mellow Wax – This is a very dark shade, mainly used on Ebonized furniture, very dark Oak and also on dark leather tops on desks. It leaves a nice aroma once used.
---
Always do a test area before starting any project to assess product suitability and final finish. Follow the manufacturer's instructions on the tin at all times.
Fiddes Wax Polish can melt to a thick liquid in warm temperatures, the wax is still perfectly fine to use. It will harden if kept in a cool area.