Description
Fiddes Supreme Wax Polish is ideal for all interior furniture, woodwork, which creates a beautiful sheen and patina. It has a unique blend of waxes that naturally enhances the beauty of your wood. We offer all colours in 400ml tins, Light, Stripped Pine, Light Brown, Antique Brown, Rugger Brown, Forest Brown, Cherry and Jacobean. Fiddes Supreme Wax Polish is Toluene free, quick drying, low aromatic and offers excellent results especially on bare or stripped Wood.
How to use Fiddes Supreme Wax Polish
Fiddes Supreme Wax Polish is easy and simple apply.
With both options below, wax fill any holes or gaps with our wax filler kits.
On bare or stripped woods.
Sand the surface using a fine sanding paper or pad.  Always sand in the direction of the grain and remove any blemishes etc.  prior to the application. Remove all sanding dust and test the chosen shade to ensure you are happy with the colour.
On very open grained woods, you can stain and seal using a Shellac Sealer, but this is optional.
Apply the wax using very fine 0000 wire wool or buffing cloth in the direction of the grain and allow soaking into the wood.
Remove any excess and then once dry, buff to the desired sheen level.
Several coats may be added to build further sheen and protection.
This is ideal on all interior woods, including furniture, panelling, shelving, architraves, hand rails and much more. The natural blend of waxes, will colour the wood, to offer a more traditional look on bare timbers producing a nice sheen.
On previously finished woods such as antique furniture.
For best results, we recommend cleaning the surface first using Priory Polish Reviver using very fine wire wool. This will remove the dirt, grease ready for treatment of the wax finish. This will also give you the best sheen and add to the depth of the colour and finish.
Next using very fine 0000 wire wool, or buffing cloth apply Fiddes Supreme Wax Polish in the direction of the grain onto the surface and remove any excess.
Allow to dry for 5 – 10 minutes and then buff with a buffing cloth to the desired sheen level.
Several coats may be added as the Wax provides a depth of finish that revives and protects any original patina of your wood.
---
The shades we offer are –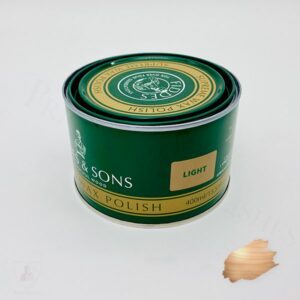 Light – A clear wax that maintains the existing, natural colour of the wood without changing the colour too much. This is ideal if you want to show the grain without darkening the wood.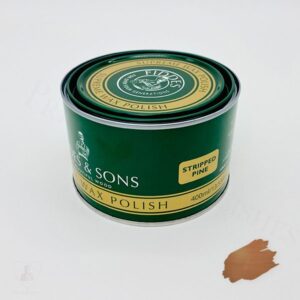 Stripped Pine – A slightly warm honey coloured wax, Ideal for stripped pine furniture and doors. This is widely used on antique pine furniture.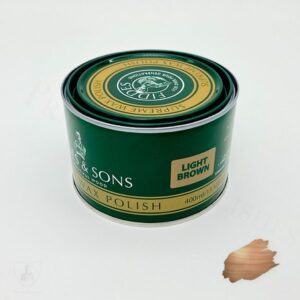 Light Brown – Mainly used on lighter timbers that you want to add a subtle shade and warmth to the grain of the wood.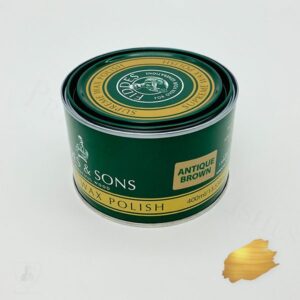 Antique Brown – This is very popular on new woods as it produces a light honey brown shade, offering a slightly antique look.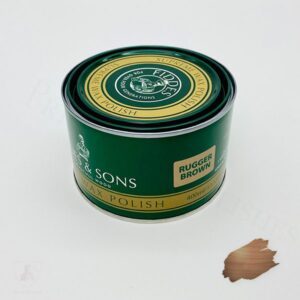 Rugger Brown – This is a tone of brown mainly used on hardwoods such as Oak and Walnut but is also a good alternative on Elm and Pine woods for a slightly darker shade.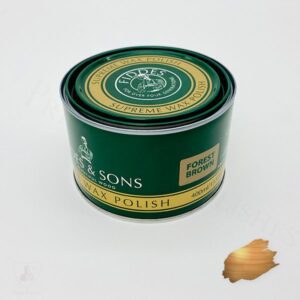 Forest Brown – Forest brown is used on all woods and gives a slightly warmer tone in the timber.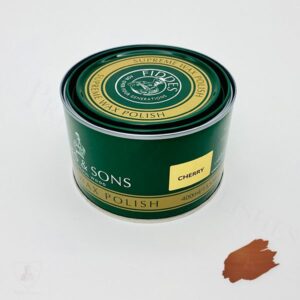 Cherry – This is a warm shade ideal for use on Mahogany, Rosewood, Cherry or any wood that needs a warm red rich finish.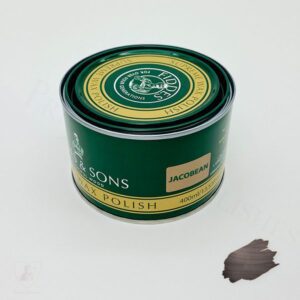 Jacobean – This wax is very dark so ideal on darker period Oak antique furniture or any timber That you want to add a dark tone.
---
Always do a test area before starting any project to assess product suitability and final finish. Follow the manufacturer's instructions on the tin at all times.
Fiddes Wax Polish can melt to a thick liquid in warm temperatures, the wax is still perfectly fine to use. It will harden if kept in a cool area.