Description
Liberon Easy French Polish – 250ml, clear is a shellac and resin-blended polish; it is ideal for beginners in furniture restoration and polishing. Liberon Easy French Polish will beautifully enhance the natural finish in your wood and produce a beautiful sheen with ease. You can see magnificent results very quickly, especially on furniture with decorative detailing. Easy French Polish is suitable on all woods (especially antique furniture and clocks) and it creates a clear, natural finish on your timber. It is most suitable for use on small surfaces measuring 2 metres or less.
How to use Liberon Easy French Polish
For a full and comprehensive guide to French polishing please see our article here.
For the below example, we used easy French polish on an antique Victorian card table.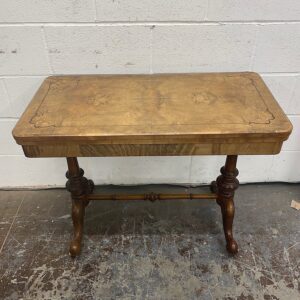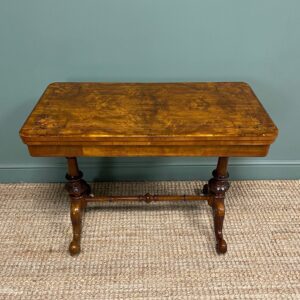 1. Ensure the surface is clean, dry and bare. Remove any finish with Wood Stripper. Use a scraper and course steel wool to remove the previous finish. Once all the old polish has been removed, neutralise using Liberon Wax and Polish Remover. Leave to fully dry and then sand with extra fine sanding paper. Remove all dust with a cloth. For further information on stripping wood, please see our guide here.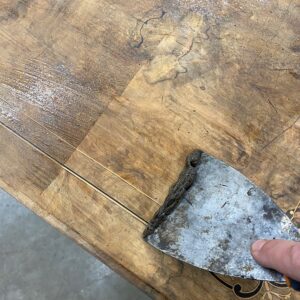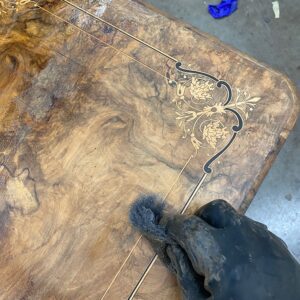 2. If required, stain the surface using either Liberon Spirit Wood Dye or Liberon Palette Wood Dye over the surface to achieve the desired colour. Once the stain is fully dry, using a good quality French polishing brush apply a thin coat of Liberon Easy French Polish, always in the direction of the grain and avoid overlapping between strokes.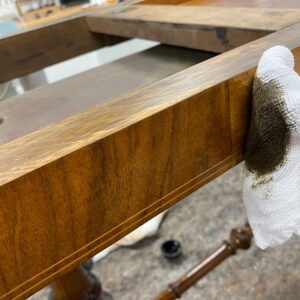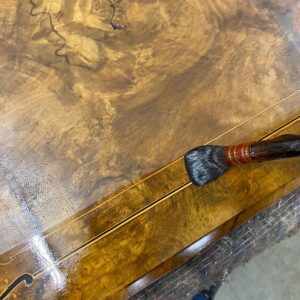 3. Allow a drying time of around four hours between coats.
4. Gently rub down the dried coat using our Ultra Fine Steel Wool (Grade 0000) for a smooth surface and use a cloth to remove all dust.
5. Apply as many coats as necessary, following the same instructions. Three to four coats are usually sufficient to achieve a quality finish but more can be added to create your desired sheen.
6. For a higher gloss finish we recommend to use a good quality Burnishing Cream or our Polish Reviver. This will produce a superb sheen to your finish. Before applying the Burnishing Cream, ensure there is a good build of polish and leave the final coat of your polish to dry for at least seven days to cure to a hard finish. You can lightly wire wool using 0000 fine steel wool to flatten the surface before use.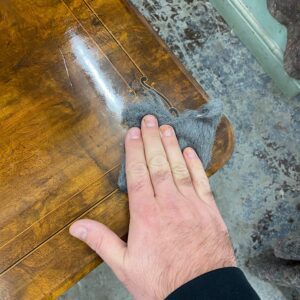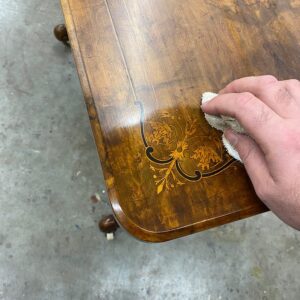 ---
Please note
For best results using easy French polish, apply on small to medium sized pieces of furniture as it does dry quickly.
We recommend to practice on small areas before applying onto larger surfaces.
Always do a test a small area before starting any project to ensure you are happy with the colour and always follow the manufacturer's instructions.
For best results always finish with a good quality Wood Wax as this will further enhance the finish and add a layer of protection to your furniture.
---
---
Heath and Safety
Highly flammable. Flash point below 22°C. Keep out of the reach of children. Keep away from sources of
ignition No smoking. Do not empty into drains. Take precautionary measures against static discharges. Use
only in well-ventilated areas. If swallowed do not induce vomiting: seek medical advice immediately and show
this container or label.