Description
Liberon Spirit Wood Dye is ideal for furniture restoration and polishing. Liberon Spirit Wood Dye comes in two different sizes, 250ml or 1 Litre tins. It is a traditional Wood Stain / Dye for colouring hardwoods such as Mahogany, Walnut and Oak but can also be used on some soft woods. It penetrates deep into the wood and can be mixed together to obtain intermediate shades. This wood stain is easy to apply and with a new ethanol-based formula, it comes in a range of superb colours.
How to use Liberon Spirit Wood Dye
1. Ensure the surface is clean, dry and free from any dust, dirt or any other surfaces contaminants.
2.This dye is mainly used on unsealed bare woods. If stripping of a previous finish is required, see our helpful guide here. Liberon Fine Wood Stripper with Steel wool, is ideal for this.
3. Fill any holes, splits or gaps with a Wood Filler or smaller chips with a wax filler. Make sure all the wood has been correctly sanded to a smooth finish and dust.
4. Shake the wood dye tin very well before use and ensure you have enough stain to finish the entire job before starting or it may dry patchy. If more than one tin of dye is required to complete the work, mix the tins together to ensure a consistent colour.
5. Apply one moderate coat of Liberon Spirit Wood Dye with a lint-free cloth in the direction of the grain of the wood and then allow to fully dry. More coats can be applied to darken the wood but ensure it is full dry between coats.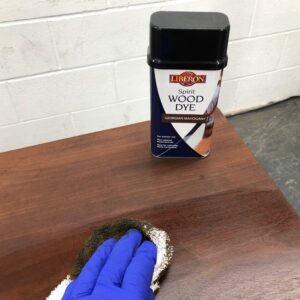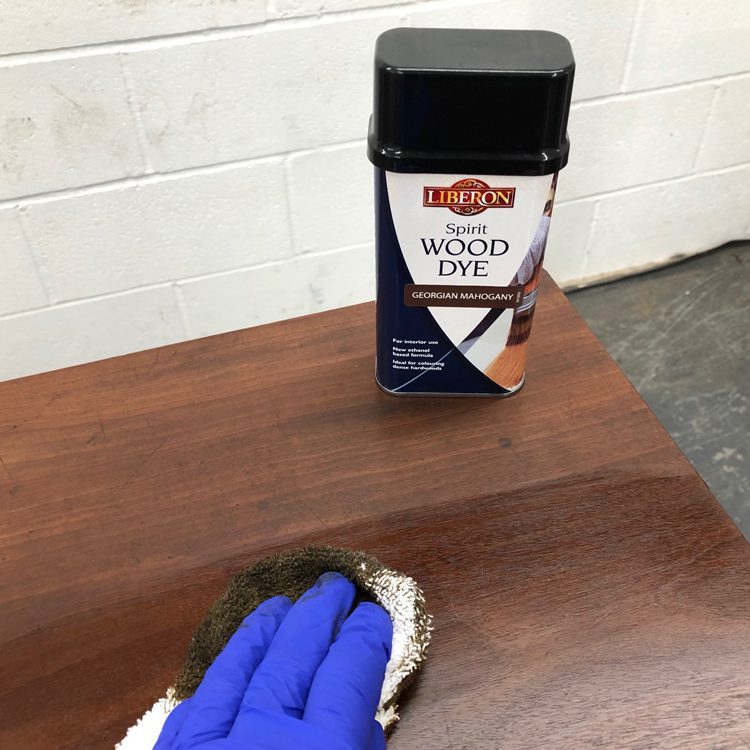 5. Leave for at least five hours between coats.
6. On some woods the second coat of stain may remove the first coat, so test a small area first.
7. When you are happy with the colour you can finish with a water based varnish, French polish, wax or oil.
8. When applying a French polish, Shellac sealer or varnish, be careful as over brushing may remove the stain.
---
---
Please note –
Always do a test area before starting any project to assess product suitability and final finish. Follow the manufacturer's instructions on the tin at all times.
Ensure sure you have sufficient dye to finish the work. Do not mix spirit based dyes with water based dyes or white spirit based dyes. Application of a second coat may lift the first coat. Caution must be taken when using oil based finishes over Liberon Spirit Wood Dye.
Keep brush strokes to a minimum as over brushing may lift out the colour.
Different types of wood produce different results. The colour example on the photos may not be a true representation of the actual colour as different woods will produce different shades.
Each 1 Litre tin covers approximately 8-16 m2
Clean equipment with Methylated Spirit
---
Heath and Safety
Harmful to aquatic organisms, may cause long-term adverse effects in the aquatic environment. Keep out
of the reach of children. Keep away from sources if ignition – No smoking. Do not empty into drains.
Wear suitable protective clothing and gloves. Use only in well ventilated areas.