Description
Osmo Polyx Oil Tints is an exceptionally good hard wax oil stain that is used to colour your wood before finishing with their well known Polyx Oil Clear. This creates a high quality, protective, tinted finish for use on most interior wood surfaces. It is scratch and scuff resistant, Protects against liquid spills and does not crack, flake, peel or blister.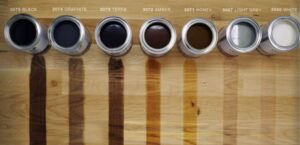 We offer all colours
3040 White
3067 Light Grey
3071 Honey
3072 Amber
3073 Terra
3074 Graphite
3075 Black
How to Use Osmo Polyx Oil Tints
Surfaces must be clean and dry, removing all dust and dirt before application. For best results apply to clean, bare wood. All existing paints, varnishes, waxes and sealers must be completely removed before use.
Use Osmo Interior Wood Filler for any small repairs before application.
Always do a small test area first to assess the suitability and final finish and always follow the manufacturer's instructions on the tin
Osmo Polyx Oil Tints are ready to use so do not thin and stir thoroughly before and during application for an even finish.
Osmo recommend 1 coat of the tint and then followed by 1 coat of Polyx Oil Clear. (do not use clear over the White tint colour, see notes below)
If you are applying to wooden floors, the first coat should be thin and in the direction of the grain of the wood. Apply using an Osmo Floor Brush thinly and remove any excess oil with a clean, lint-free cloth.
Leave to dry for around 10 to 12 hours but overnight if possible.
Lightly de-nib the surface and remove any dust with a vacuum cleaner.
Apply a second thin coat and allow to fully dry for at least 24 hours.
If you are applying to cork floors, they must be treated before fitting. With cork it is best to apply the first coat very thinly with an Osmo Soft Tip Brush. Leave to dry for at least 24 hours and then apply second coat, again very thinly and remove excess with a lint free cloth. Leave to dry for at least 24 hours.
If you want to repair worn areas already treated with Osmo tints, simply re-apply a thin coat to worn areas. No sanding is required and there is no need to remove the previous coat of Polyx Oil finish. If the colour is not worn through, just re apply a clear coat of Polyx Oil.
---
---
Please note
If using the colour, Polyx Oil White 3040 – do not use the clear Polyx Oil over the top as this can change the colour to a darker shade. For white, Osmo recommends that you finish using Osmo Polyx Oil Raw (3044).
It is important to ensure good ventilation during application and drying.
The coverage is up to 30m² per litre.
---
Health and safety
Keep out of reach of children. Do not get in eyes, on skin or on clothing. If medical advice is needed, have product container or label at hand. Use only outdoors or in a well-ventilated area. Warning: Wash out any used cloth impregnated with this product immediately after use or store in an airtight container (danger of self-ignition). The dried finish is classified as B2 (normal flammability) according to DIN 4102 regulations.
---
Safety Data Sheets