How to use Burnishing Cream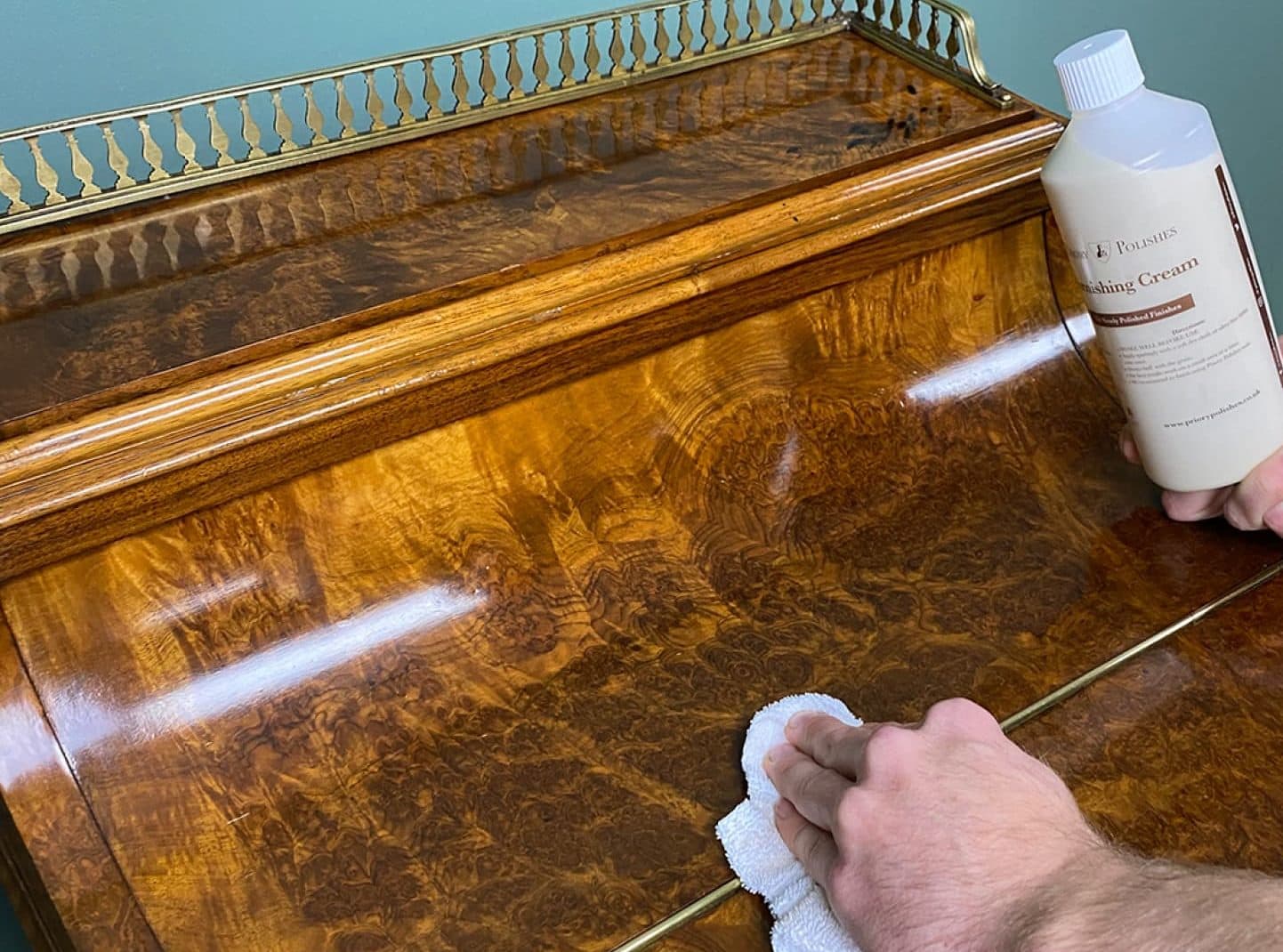 Our Priory Polishes Burnishing Cream is designed to burnish all dull finished surfaces on modern and antique furniture. It is especially effective on newly French polished, lacquered, painted surfaces and varnishes to produce a beautiful sheen. It is also used as a reviver on old finishes but for this process we would recommend to use our Priory Polish Reviver as it is more gentle to the original finish and you will get a better sheen.
Burnishing Cream is a light abrasive so it is important to make sure that there is an adequate thickness of polish in order to withstand burnishing of the top layer to give you the desired finish. Priory Polishes Burnishing Cream is used to remove some white ring marks, heat marks and watermarks but its main function is for the removal of haze and bloom on newly polished surfaces.
Directions on how to use Burnishing Cream on Wood Surfaces
For newly finished surfaces, like french polished or spray finishes, follow these simple instructions – always shake the burnishing cream well before use.
Apply sparingly with a soft dry cloth or very fine (0000) Wire Wool.
Always work with the grain and for best results only do a small section at a time.
Once applied use firm pressure with a clean cloth to buff and create the sheen. You can apply using circular motions but always finish in the direction of the grain.
You can also use an electric buffing machine, with the appropriate buffing material but be careful not to do this too fast as the friction can soften the polish which will mark the surface.
Here is an example of a large dining table top that we re-polished and then burnished to a high sheen. You can see the colour was perfect but the client wanted a glass finish.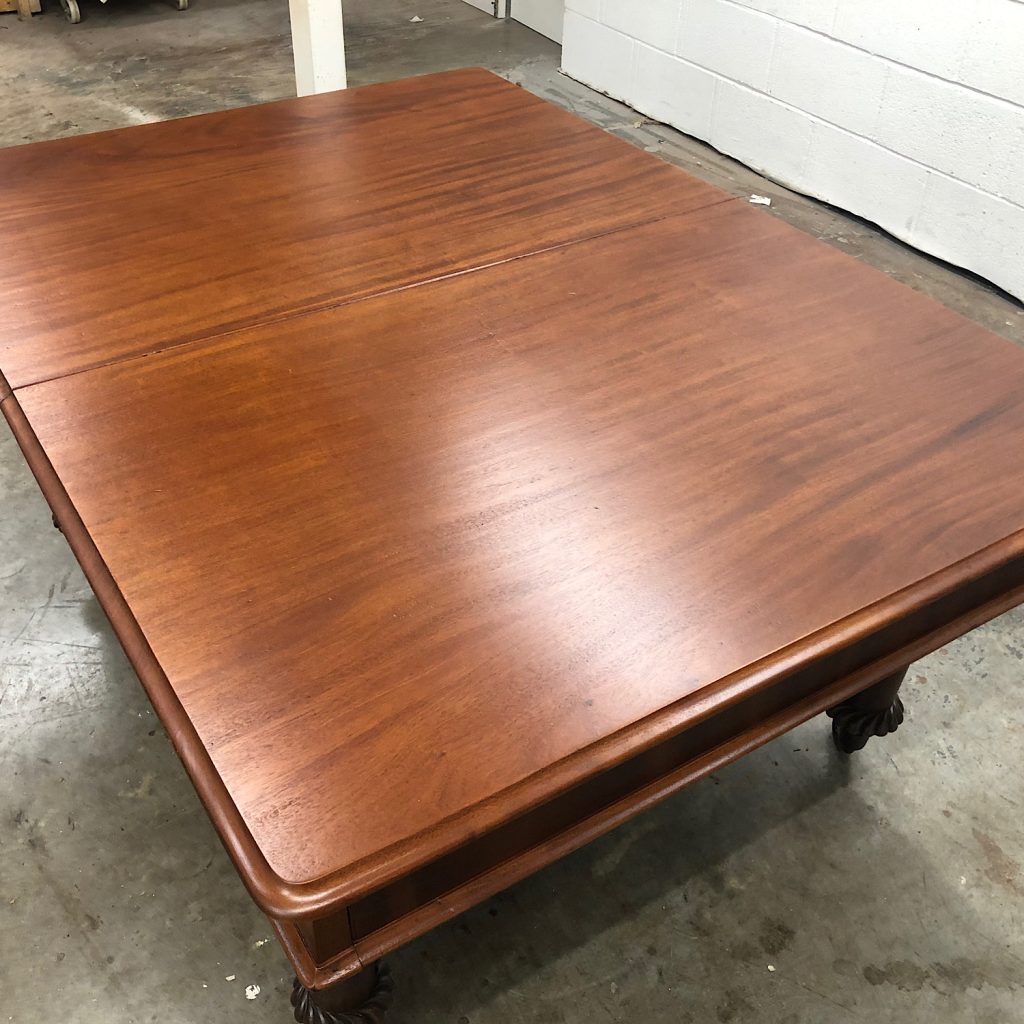 We apply the burnishing cream using a soft cloth but sometimes it works by using 0000 wire wool on more open grain finishes.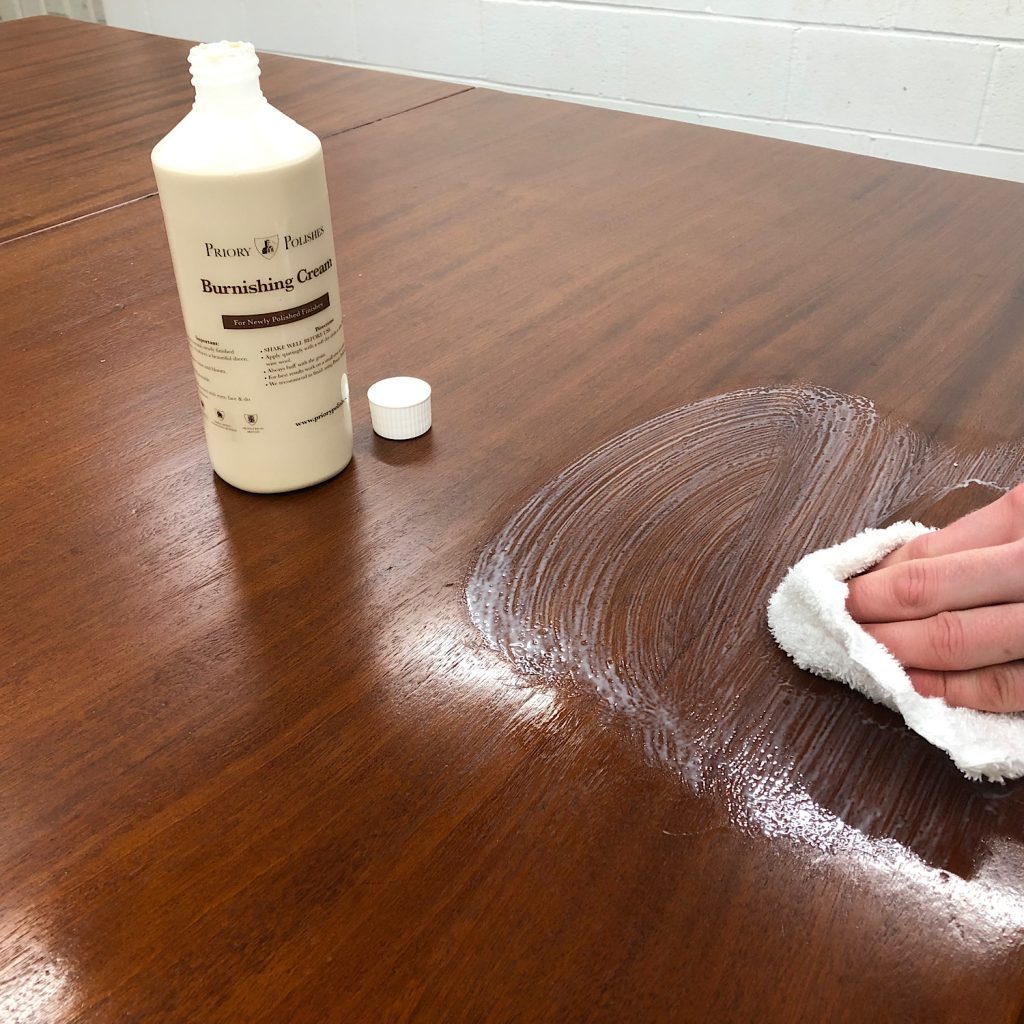 Now we buff off the burnishing cream and you can see the sheen starting to be revealed.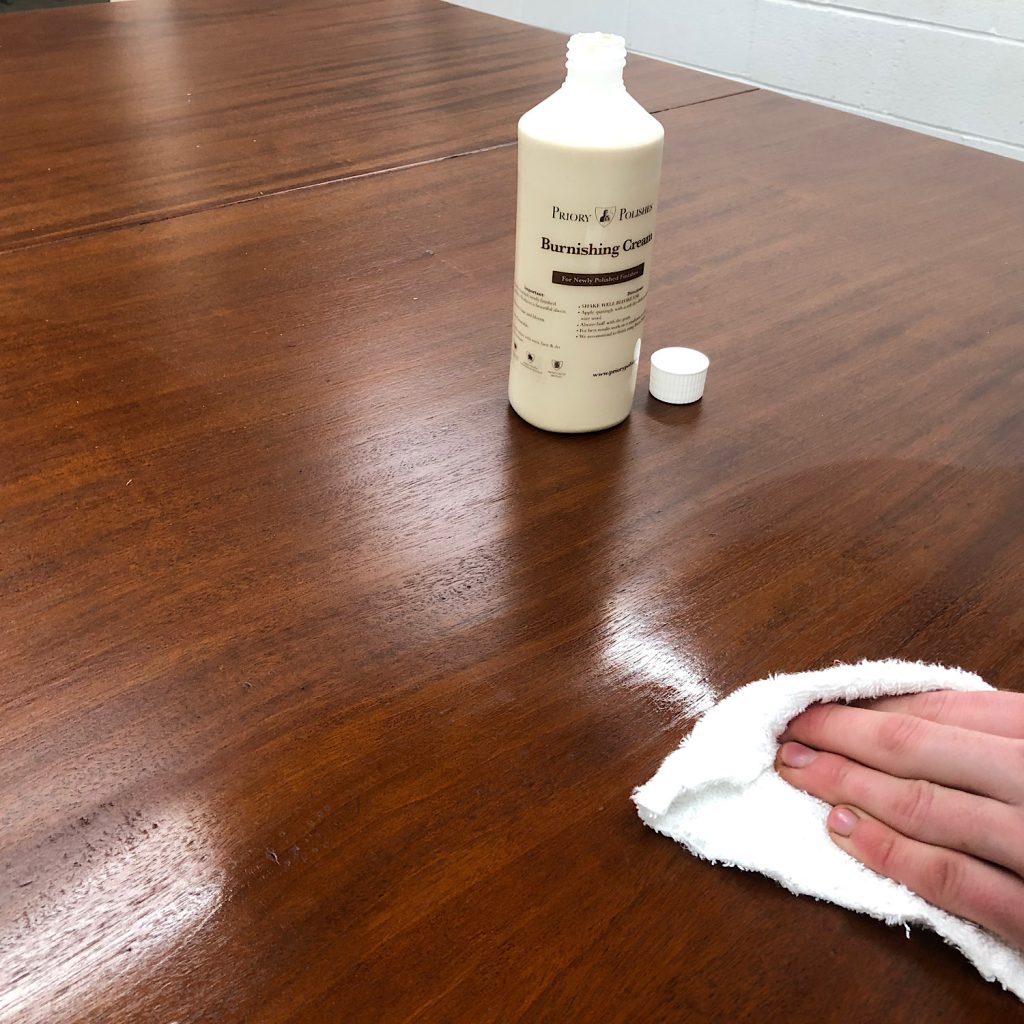 Continue the above process over the entire surface until your desired finish is achieved. Once complete, we highly recommend to finish by waxing the entire surface using our Finishing Bees Wax. Apply using our Ultra Fine Wire Wool or Buffing Cloth in the direction of the grain and then buff off. This will stop blooming of your finish and will add a protective barrier to the surface.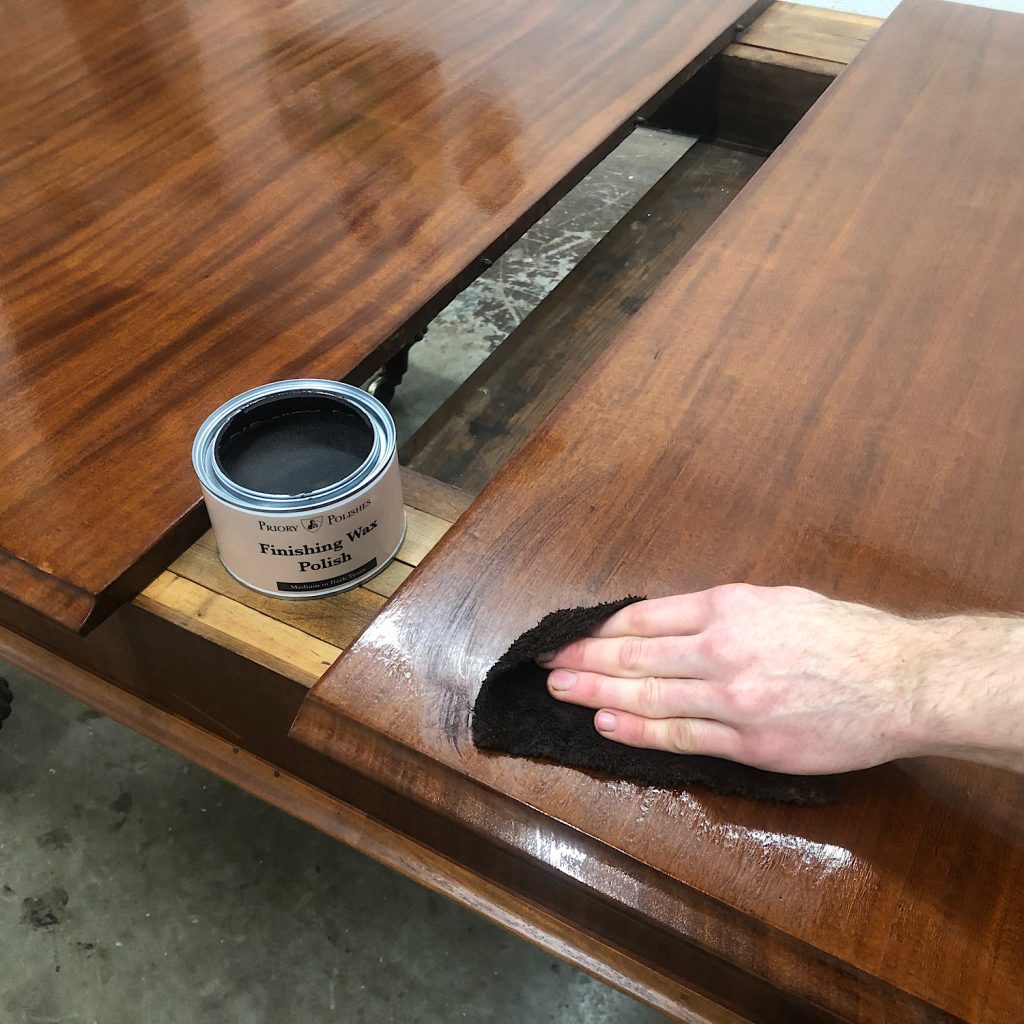 You can now see the finished surface, it is a high glass sheen finish up against the non burnished dull side.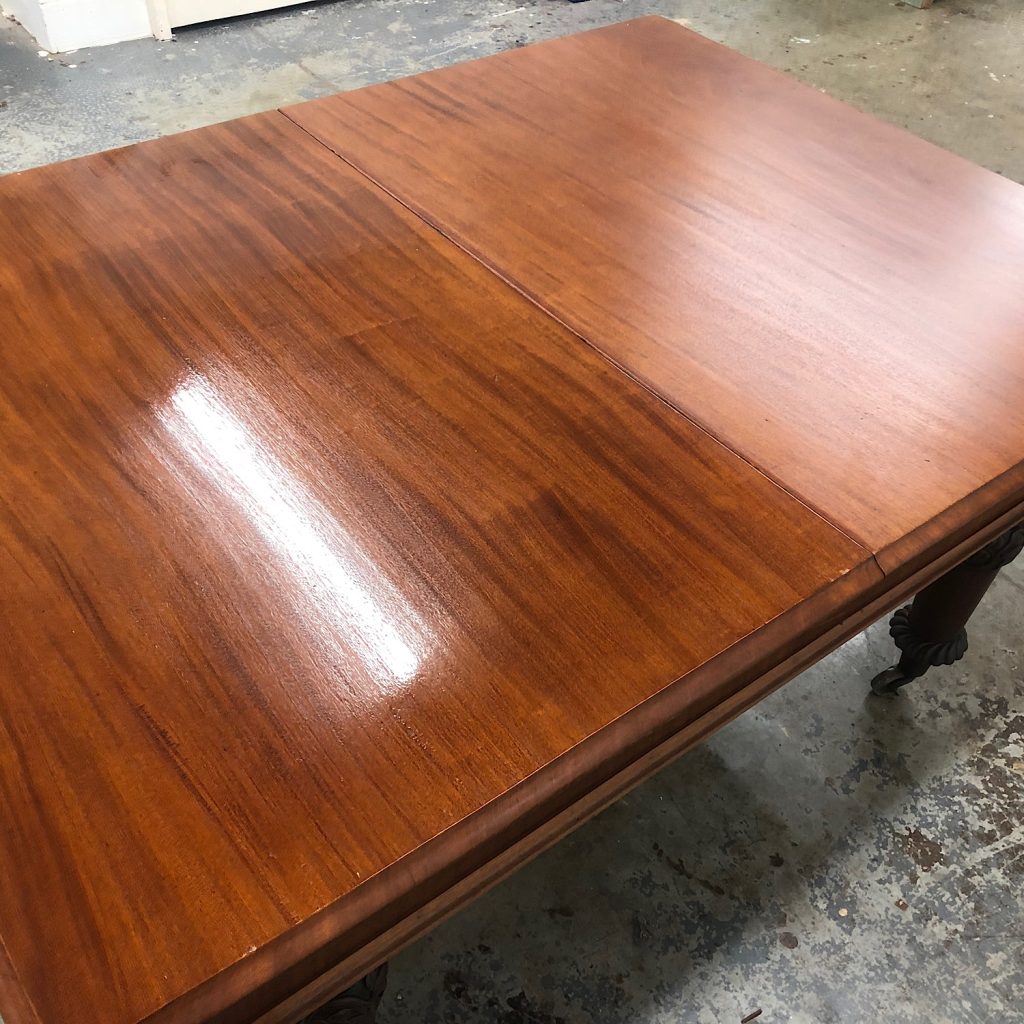 You can see clearly on the two table leaves how much of a difference the burnishing cream makes to the finish.
Products used