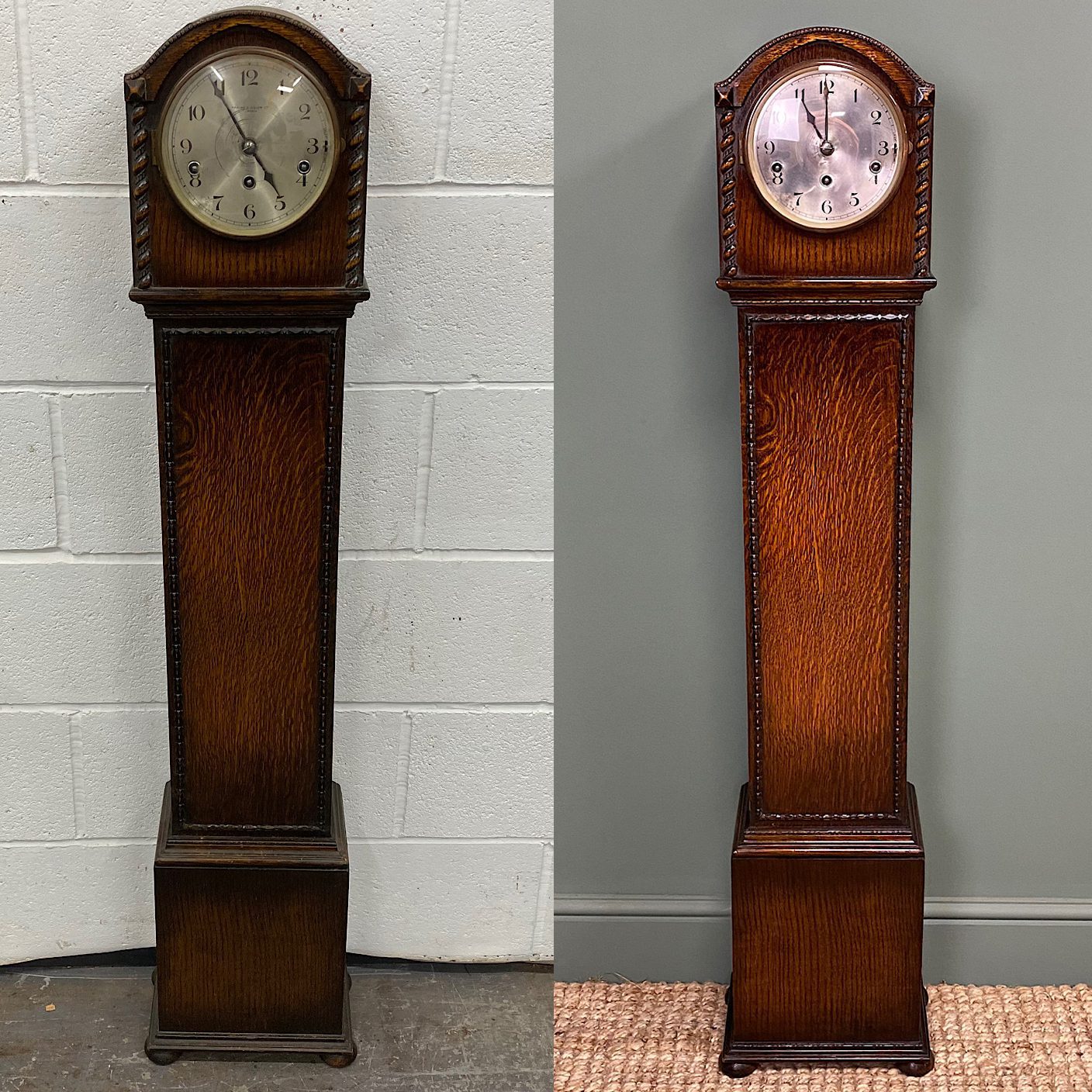 The idea of clock case restoration is to repair and renovate the original finish without removing the aged patina. Clock Case Restorer has been specially formulated by Priory Polishes for the cleaning of all wooden clocks; from Grandfather clocks, Mantel, Wall and Long case clocks. It will renovate and revive the original finish and bring the patina back to life, leaving a beautiful sheen without the need of re-French polishing. Priory Polishes Clock Case Restorer, is well known throughout the clock restoration trade and has been used with superb success, we believe there is nothing as good on the market and have been using this ourselves for many years. It will not only create a beautiful lustre and enhance the original finish but also removes years of dirt, grime. It will reveal the original beauty of the wood and make clock case restoration very little effort. Your clock will have a new lease of life, leaving you with a wonderful sheen and colour.
It is very simple and easy to use and using the steps below you will restore your clock case back to its former glory.
How to clean a clock case
Firstly, shake the Clock Case Restorer very well before use, masking tape around any glass or areas you do not want to polish but this is optional as it does buff off very easily.
Use our Wax Filling Sticks to fill any small chips, scratches, small areas of missing veneer and dents with a spatula provided in the pack.
If your case is just dull and not too dirty, use our Priory Polishes Buffing Rag and apply the Clock Case Restorer onto the cloth so it has a nice damp section. Then apply to the surface, always working in the direction of the grain. Then buff off straight away with firm pressure and see the colour quickly appear along with a beautiful shine. For very dirty surfaces, apply with our ultra fine Priory 0000 Quality Wire Wool. Apply the Clock Case Restorer onto the wire wool, ensuring it is very damp and apply in the direction of the grain. Again buff off straight away with a clean buffing cloth.
Continue the above process over the entire surface until your desired finish is achieved. You will be amazed how much dirt is removed and what a wonderful shine will appear.
Once you have completed all the cleaning of your clock, we highly recommend finishing by using our Finishing Wax, applying with our Ultra Fine Wire Wool or a buffing cloth. Not only will this enhance your sheen and colour, it will provide a barrier to protect your clock and stop future dulling. The more frequently your clock is waxed, the better the overall finish it will have. Just remember, apply your Wax in very thin and even coats as putting on too much can result in smeary finishes.
If you want to keep your mechanism moving smoothly, use Priory Polishes Clock Oil, but if the mechanism needs cleaning first have a look at our Ammoniated Clock Cleaning Concentrate Solution as this is a superb solution that will clean your clock movements used by the Horological trade.
We do have other interesting articles that will teach you how to clean a clock Mechanism using a Clock Cleaning fluid and also how to restore and re-Silver your clock dial using silvering powder.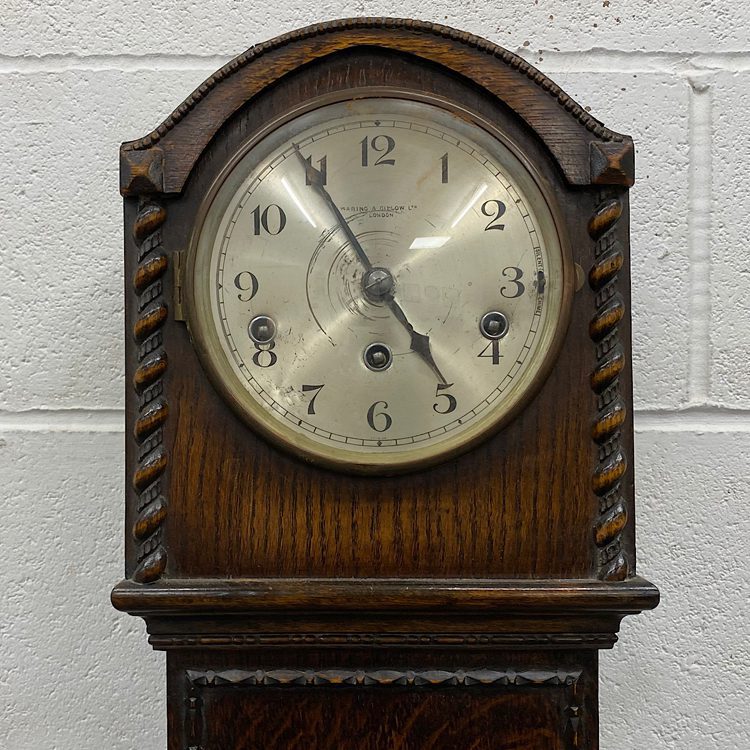 Some of the products used