Description
Priory Polishes Slate Blacking is for the restoration and reviving of black slate Clocks, Hearths and Tiles etc.
Directions:
SHAKE WELL BEFORE USE.
The slate must be free from dirt, grease etc. To ensure this, clean the case well with White Spirit and fine wire wool.
It is important that you dry the slate well with a clean cloth whilst the surface is still wet, then leave for a couple of hours before applying the Renovator.
The Slate Black Renovator should be applied with a clean lint-free cloth or sponge on to the surface. DO NOT rub in, but try to apply as evenly as possible.
The minimum of two coats are recommended but allow to dry thoroughly between coats.
When the slate is dry it can be buffed up to a high shine with a soft duster. For further protection apply a light coat of Priory wax polish.
For indoor use only. Not for use around wet surfaces.
It is always recommended to test a small area first.
---
For a tutorial on how to use Slate Blacking please watch the following:
---
Frequently Asked Questions
What is Slate Blacking used for?
Slate Blacking is used for bringing your Slate back to a rich black colour. It is used to touch up your Slate piece and for restoring Slate Black Clocks, Slate Fire surrounds and many more slate objects.
What can Slate Blacking be used on?
Priory Polishes Slate Blacking restores and revives:
Black slate Clocks
Slate Statues
Slate Hearths
Slate Tiles
Slate Fireplaces
Can Slate Blacking be used on Fire Surrounds?
Yes, this will darken and revive the Fireplace, if cleaned with white spirit and wire wool beforehand to remove dirt & grime. Here is an example from one of our customers.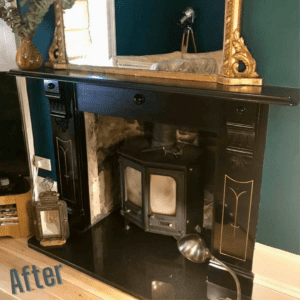 Is Slate Blacking waterproof?
Slate Black restorer is not recommended in an area that will get damp or wet as it will wear off over time. It is not really designed to get wet but many of our customers do buy and use this in areas that get damp. They just re-apply when the area starts to wear off. In areas that are not in a damp area we do always recommend to seal using a wax finish to protect but again this will not be waterproof.
Will Slate blackening darken my greenish slate black?
If the slate has aged with a green tinge, you will need to clean this off before applying. As long as there is no sealant on the Hearth beforehand this should darken the piece.
How do you polish a slate clock case?
Have a look at this article we did with step by step instructions. It is easy to do and this method is used throughout the antique restoration trade with huge success.
Will the slate blacking make a grey hearth black? If yes will it be a matt or shiny finish?
As long as there is no existing finish on this the Slate blacking should work. As for the finish, the more coats you apply will result in a more shiny finish. After you apply, you can buff to achieve a higher shine or leave for a slightly duller finish. I would recommend trying this on a small inconspicuous area first to make sure you are happy with it.