Description
Evo-Stik Wood Glue Adhesive is a no-mess, strong adhesive perfect for general bonding of wood assemblies for non-structural applications. It has suitable properties for interior and exterior wood, as the glue dries to a clear finish. This means that you can sand, paint or stain the wood if desired, making this great for Tables, Chairs, Skirting Boards, Windows & Door Frames etc. It is also widely used throughout the antique furniture restoration trade.
The bottle has been designed for easy use to dispense the ideal amount of wood glue, without rolling over or the nozzle drying out.
Before use, ensure both the surfaces of the wood to be glued are clean and free from any previous old glue, dust etc. as this will give you the best bond.
The wood glue requires a firm amount of pressure to be applied, a clamp would be ideal. Once clamped, wipe off any excess and leave for 24 hours for the glue to fully cure. Once dry, this will produce a very strong bond and is ideal for all different types of wood such as softwood, chipboard, plywood, block wood and hardwood.
How to use wood Glue
Here is an example of a Georgian chest of drawers that had opened up on the joints along the side and top of the carcass.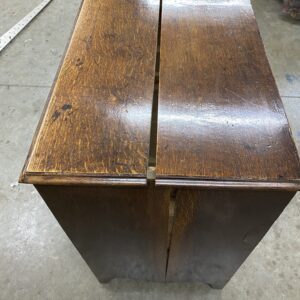 The first thing we did was clean the joints, making sure any old glue and dust is removed.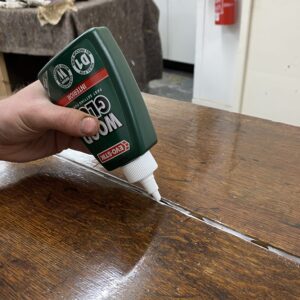 next we applied the wood glue along all the joints, ensuring all edges are covered with plenty of glue.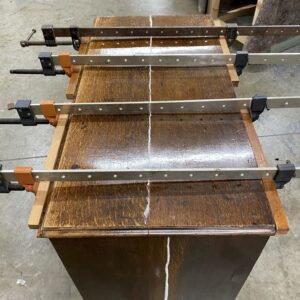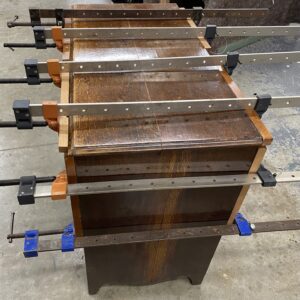 Once the glue is applied, we use sash clamps to pull the joints back together with firm, tight pressure. This is important as you need pressure for the glue to set correctly. You should always use some old timber blocks to stop the clamps marking the wood.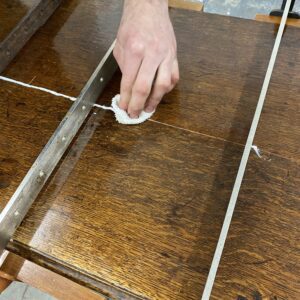 Once it is fully clamped, wipe off any excess glue that has squeezed out from the pressure of the clamps. You can use a slightly damp cloth. Leave to dry for 24 hours before removing the clamps for the glue to fully cure.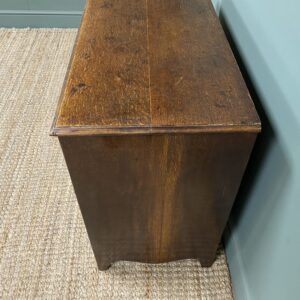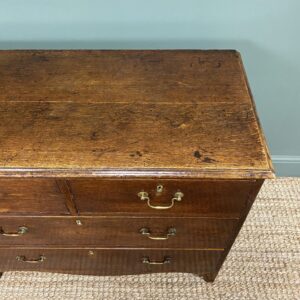 The next day, we removed the clamps from the chest and as you can see the joins are fully closed back, with no gaps visible in the join.