How to Remove Water Damage Stains on Wood Furniture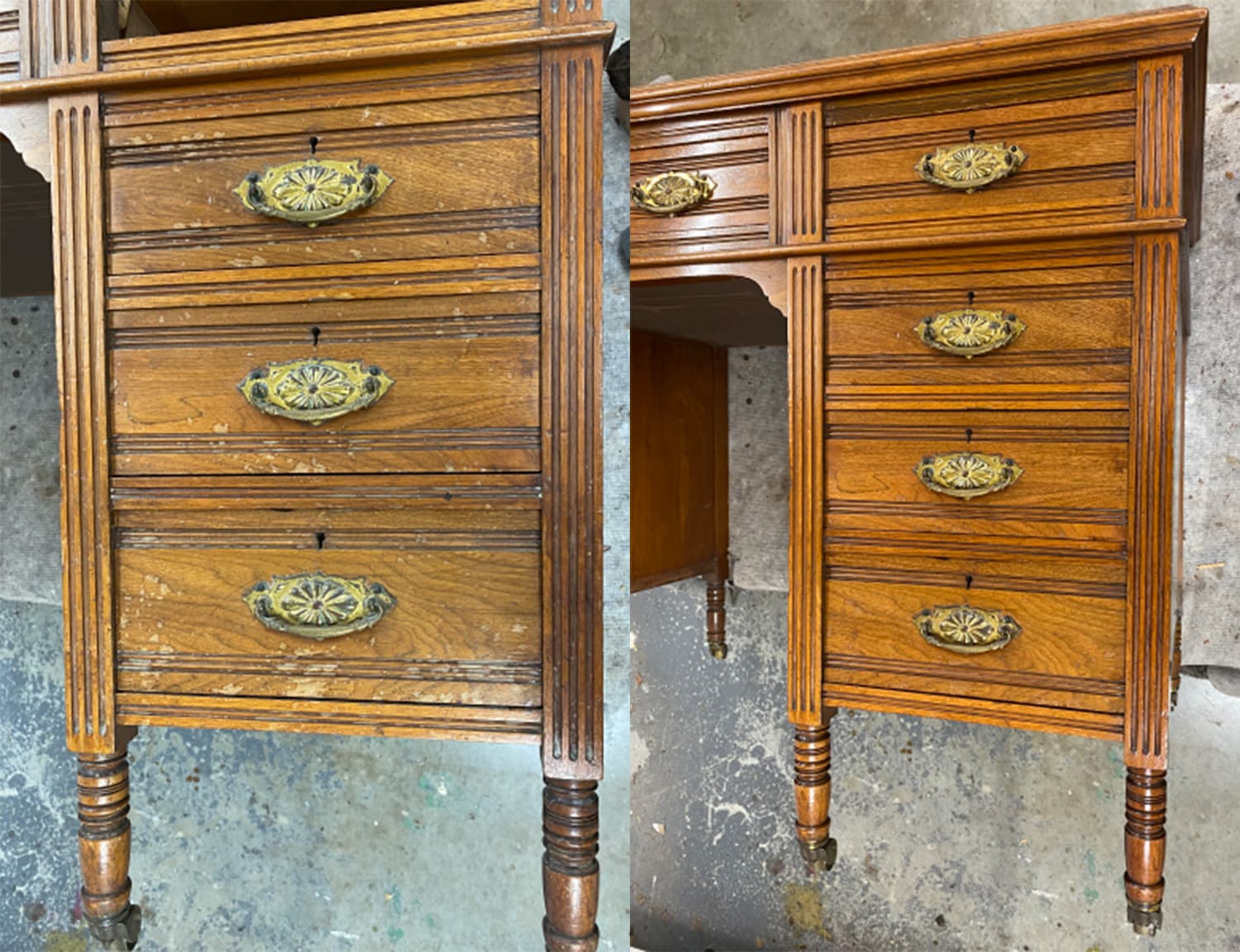 After reading many articles on Google with concerning advice, we thought we would show you how to professionally remove water damage stains on wood Furniture in the correct manor without damaging the original patina on your wood. This is an easy and very effective technique that anyone can do at home without too much effort.
When water penetrates the finish, it goes under the surface so the idea is to work out the damp and revive the finish at the same time. Priory Polish Reviver does this and also colours the timber really well.
First, you need shake the bottle very well and then apply the Polish Reviver onto 0000 Quality Wire Wool, making sure the wire wool is really well saturated. Apply in the direction of the grain; some pressure may be needed but not too much as you do not want to rub off the original finish. Buff off straight away with a clean buffing cloth and you will not only see the marks start to disappear but you will also see years of grime be removed at the same time.
Now you want to get a clean buffing cloth, soak an area in Polish Reviver and use firm pressure in circular motions across the wood but always finish in the direction of the grain. This will start to show a nice sheen appear and the marks will start to look less prominent. Buff off any excess, ready for the next stage.
Continue the above process over the entire surface until your desired finish is achieved and most of the damaged marks have been removed.
Now, using Dark Tones Finishing Wax, apply using Ultra Fine Wire Wool in the direction of the grain and leave for around 30 minutes. Buff off and repeat where necessary until you are happy with the results. Always apply in thin coats as this will be easier to buff off, the more coats you do the better the finish will be. For very stubborn marks, you may want to use a touch up pen to colour the marks before waxing over again.
You can see below the finished article, the water marks have almost vanished using this simple method and this also has the added benefit of bringing out the beautiful natural colour of the timber by reviving the original finish. This is ideal on antique and vintage furniture as our polish revive works best on old finishes.
This is what not to do, to remove water damage stains on wood Furniture (as seen on many Google articles) as it is terrible advice. It may work on some unfinished timbers but certainly not on fine furniture previously polished.
• Do not rub mayonnaise into your wood, this will just cause a sticky mess and leave stains in your wood.
• Do not use toothpaste on a wet cloth, as this will most likely bleach your wood and remove your finish.
• Do not sand with a sanding belt. Do you want to destroy your timber make it open-grain and rough?
• Do not spray down with a hose; this will just swell up your wood and destroy your furniture.
• Do not iron your wood, this will most lightly burn your wood, melt your polish or lift any veneer.
Some of the products used
Here are other examples or Polish Reviver used to restore the finish on Antique Furniture: