How to Restore and Clean Antique Castors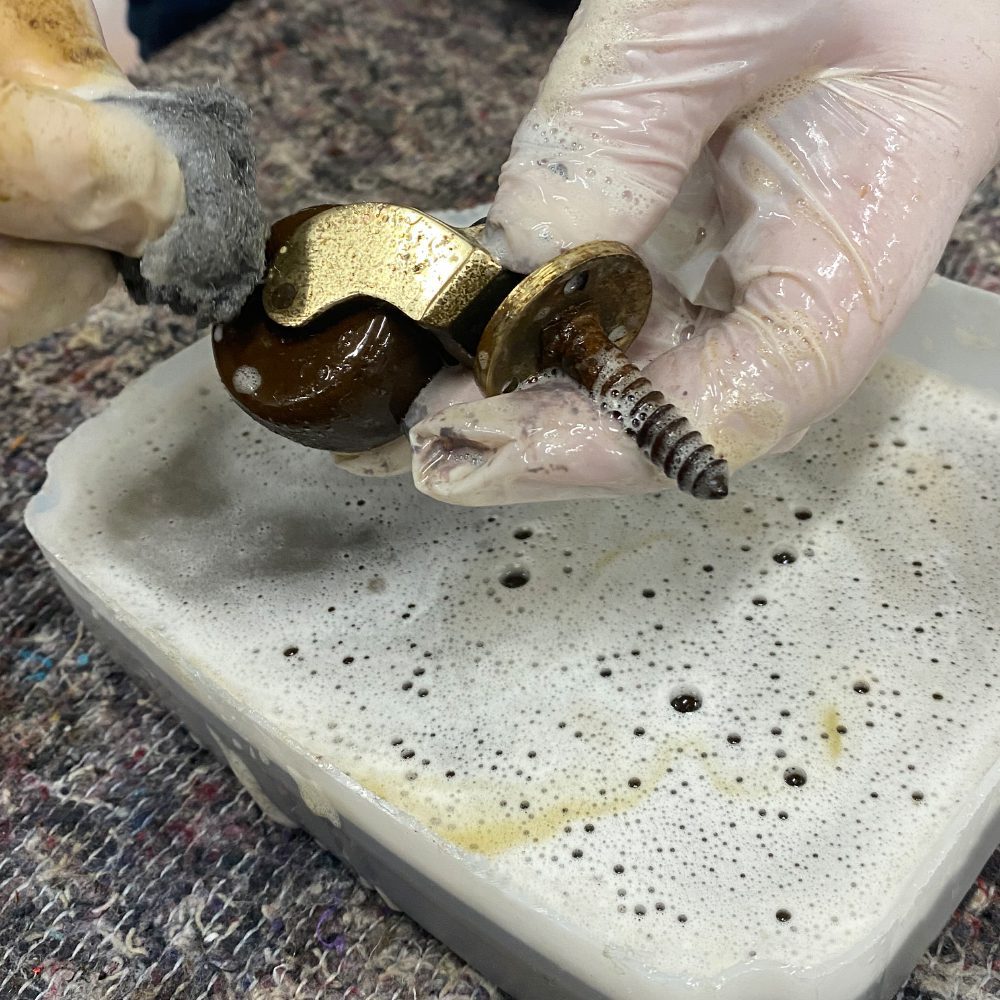 Learn how to clean antique castors with a simple and easy method below. Old Vintage antique castors are usually extremely well built using metals like Brass, Copper or Steel but over time they can become seized, rusty and un-usable. This is because of damp, from mopping etc. and years of dirt and grease that has been collected from use.
This all sticks together over time to seize the wheels so they no longer can move. Rather than replace them with modern inferior castors, we are going to teach you how to clean and restore them back to their former glory and this will keep your vintage and antique furniture authentic, which will also keep the value in your piece.
Below is a very simple and easy way to clean antique castors back to a useable condition and then what to do after cleaning to protect them for future use.
Priory Polishes offer two different types of cleaners. One is an Ammoniated Cleaning Concentrate Solution and the other is non Ammoniated. Although the title says clock cleaning (as it is used for the cleaning of clock mechanisms) it is actually used for many other cleaning of metals.
For solid brass castors with no porcelain wheels I would use the Number 1 Ammoniated solution whereas for the solid brass castors with porcelain wheels I would use the number 2 non Ammoniated solution as it is slightly less abrasive. For the below example we have used the non Ammoniated as we are cleaning castors with porcelain wheels.
Unscrew the castors from your furniture and keep the screws in a safe place.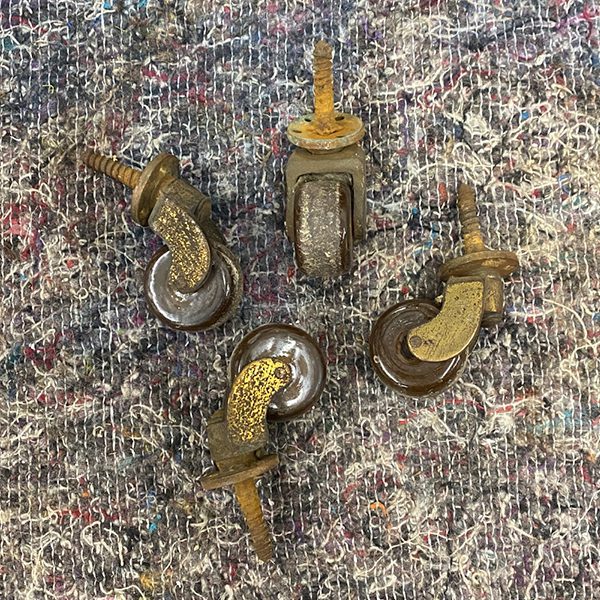 place the concentrate and mix with seven parts water into a suitable container
Put the castors into the solution and leave for around thirty minutes to one hour before checking.
You will see the grime and muck start to come off the castors as the water will start to become more murky and dirty.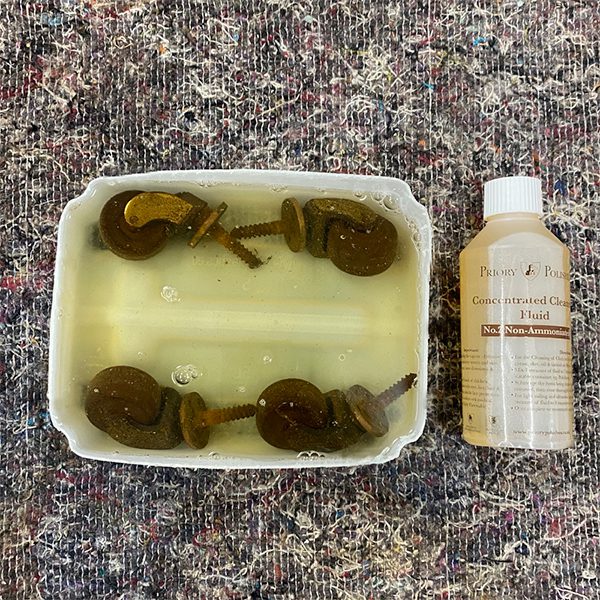 You can give these an extra clean by giving them a wipe over with very fine 0000, wire wool and submerge into the water between rubbings. Don't forget to wear gloves during this process for protection to your skin.
If there is still rust and dirt, keep in the solution for longer, sometimes it can take several hours to get your desired finish and you can keep using the wire wool if necessary.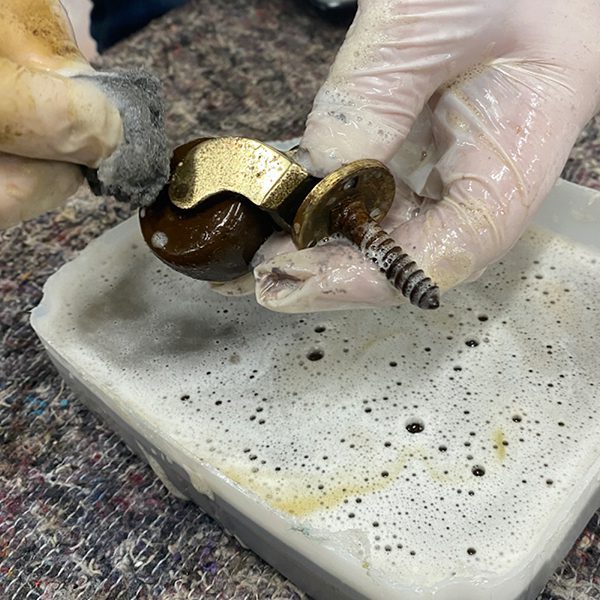 Once you are happy with the results wash the castors in clean warm running water and fully dry. You will be amazed with the results.
When you have cleaned and dried your casters, you can either, just add a small amount of oil to the wheel and re apply to your furniture or for extra protection you can seal the Brass with our jade oil or brass lacquer. Do not apply to the pin holding the wheel in place as this area you just want to oil. This will add an additional protective coating to prevent future rust and corrosion. Don't forget to also periodically add small amounts of oil to keep the wheels running smoothly.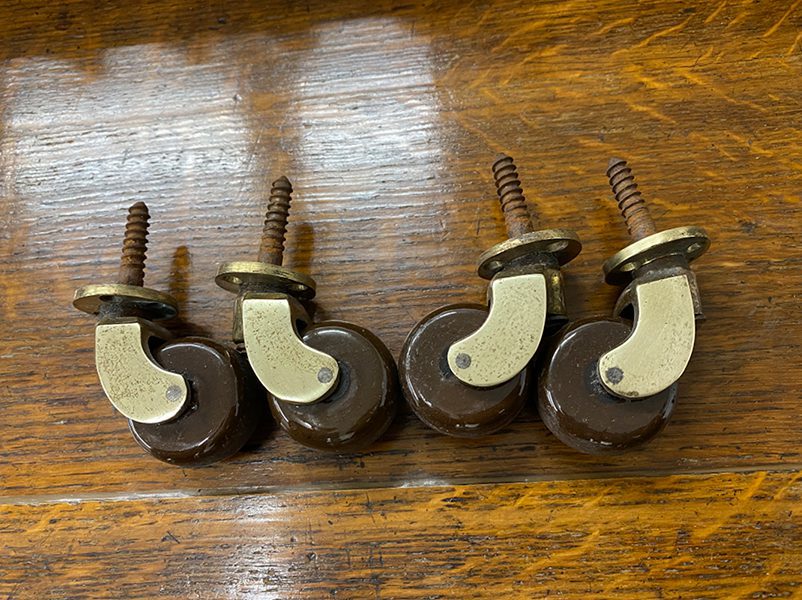 See the main Items below that you will need to complete the full cleaning and restoration of old brass castors.